Meniños Cantores 2 it's here!
MENIÑOS CANTORES 2 – Cantamos nos!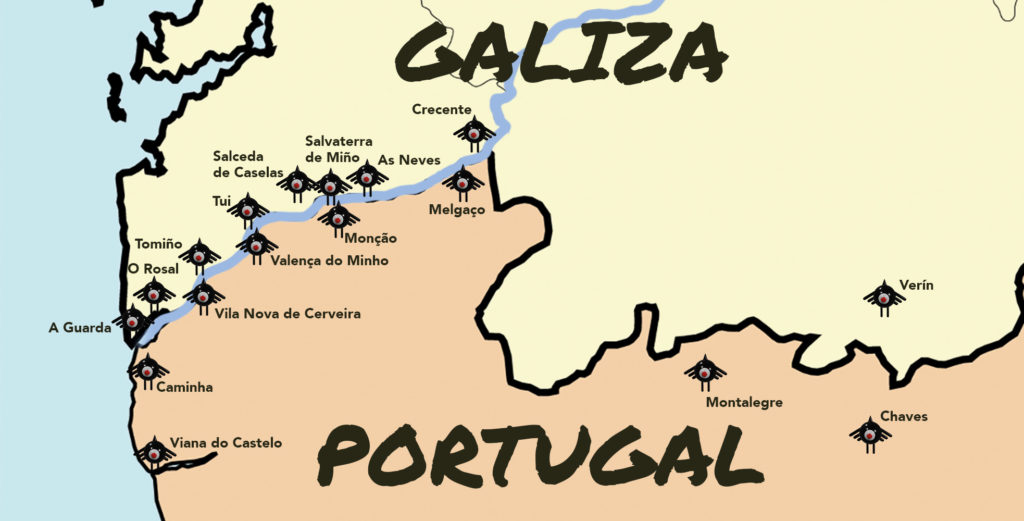 WHAT IS IT ?
Meniños Cantores 2 is a project by Ponte…nas ondas! co-edited with the Galician Culture Council, produced by Casa de Tolos and published by PAI Ediciones S.L. It is sponsored by Xacobeo 2020-21 and TVG.
This is a new proposal made from the first edition of Meniños Cantores published in 2005. At that time, there were 17 schools located between Vigo and Porto that recreated songs from the Galician-Portuguese musical heritage, in addition to collecting samples from carriers. A common anthem composed by the singer Uxía Senlle and the musician Segundo Grandío, "Máis perto", was recorded in a videoclip on the international bridge of Tui and Valença do Minho by more than 500 students from both sides. The work carried out in that year was presented as an example of the commitment of schools with the Galician-Portuguese intangible heritage that was presented at UNESCO by Ponte…nas ondas! with the endorsement of Portugal and Spain.
Meniños Cantores 2 is a new project carried out by 17 schools along the Galician-Portuguese border, from Chaves to Caminha and from Verín to A Guarda.
A project that contains: 18 musical themes, a documentary series and a book-USB
THE MUSIC PROJECT
Each school prepared a version of a song from the Galician-Portuguese popular music repertoire, performed it with the students and had the collaboration of an artist or music group with which they recorded the theme.
The participating students are an example of a great diversity: from infant education students, primary education, secondary education, special education, choral groups, music bands, etc.
The musical godfathers and godmothers were chosen by the participants and proposed by Ponte…nas ondas! The objective was for professional artists and musicians to support and reinforce the students' work with the song and to be able to record together. In total there have been 16 godfathers and godmothers of the project.
On this occasion, the collaborating artists have been in charge of recording the common theme, "Máis perto", a new version of the recording made by the students in 2005 on the Tui-Valença bridge.
THE DOCUMENTARY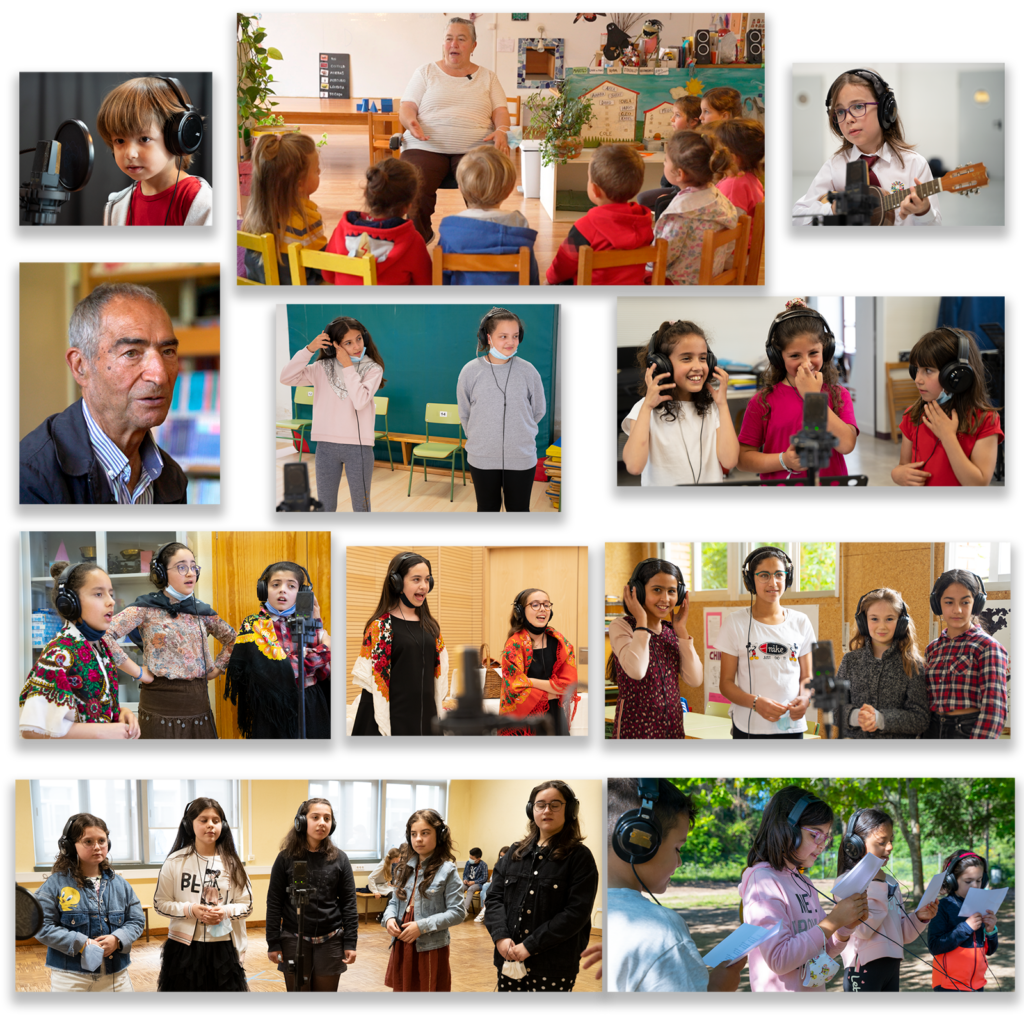 Parallel to the recording of the album, a documentary series was recorded that includes statements from the teachers involved, opinions of the students, testimonies and interviews with carriers, images of the recording places and video clips starring the students and the collaborating artists.
The documentary series of more than 3 hours has been distributed in 4 chapters of 50 minutes and is included in the USB that accompanies the book. Galician television (TVG) has broadcast the series.
In addition, the schools carried out a specific vocabulary selection work for each locality on both sides of the border. With this material, a common Galician-Portuguese glossary was configured that has been included in the USB-book.
THE BOOK
With more than 80 full color pages, in 20×20 format, it includes texts by the Galician writer Rosa Aneiros, the Portuguese writer Marco Neves and the professors Helena Pousa and Santiago Veloso, president of Ponte…nas ondas!
A brief description of school, of the town and a reference to the intangible cultural heritage of the area is presented, where expressions and characteristic vocabulary of each municipality are collected. With the lexicon collected, a common Galician-Portuguese glossary was drawn up, which has been included in the book.
The book has been illustrated by cartoonist Andrés Meixide and presents a large number of images of the entire recording process.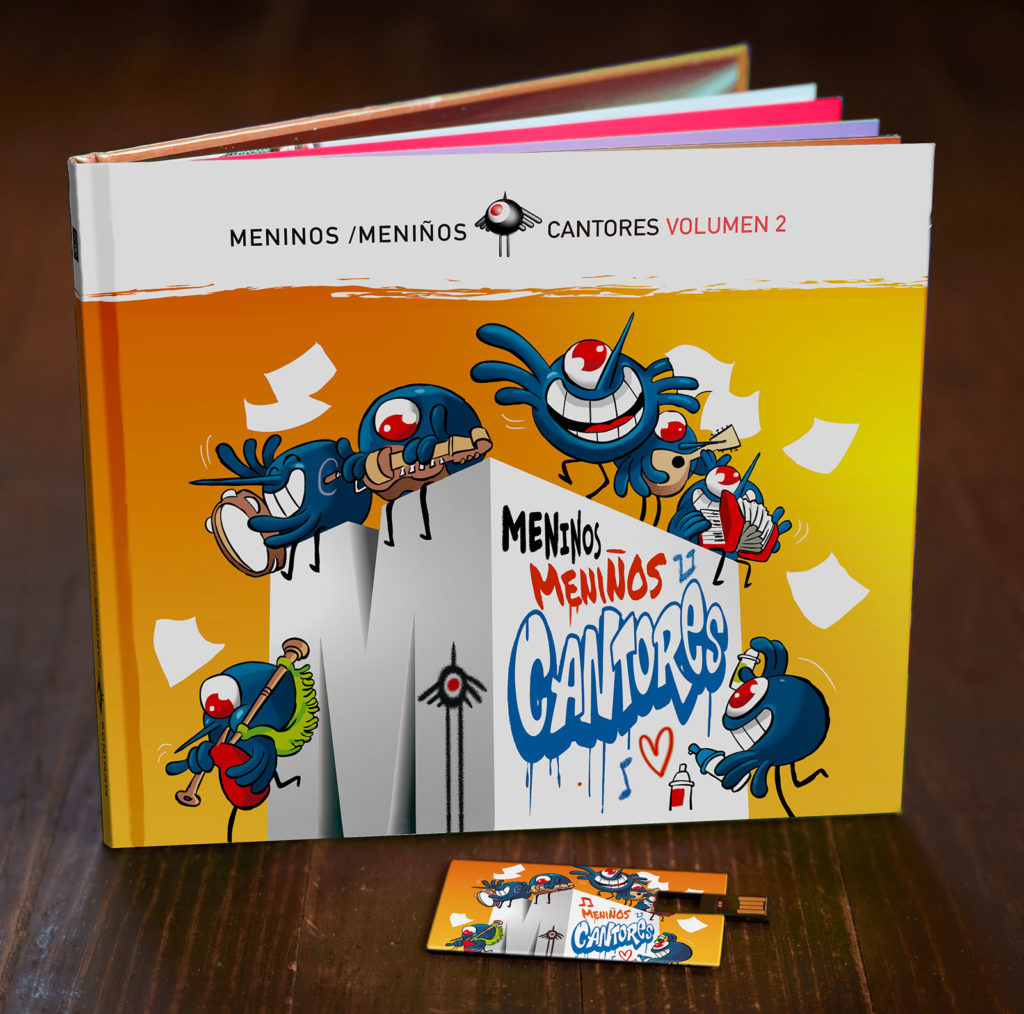 Godfathers and godmothers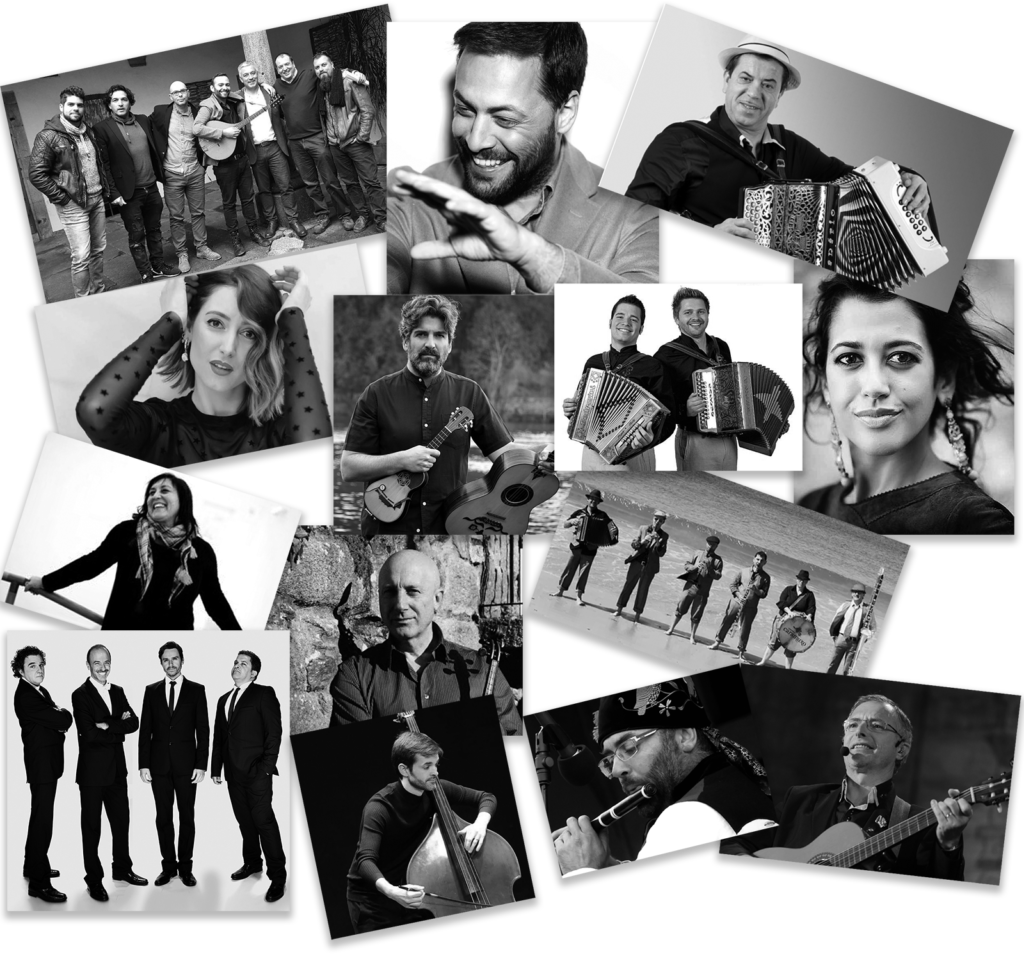 Pancho Álvarez – Tui
A Roda – As Neves
Lucía Pérez – O Rosal
Zaraida de Maskarpone – Verín
António Zambujo – Montalegre
Augusto Canário – Valença e Viana do Castelo
Sons do Minho – Monção
Daniel Pereira – Melgaço
Vozes da Radio – Chaves
Cuarteto Caramuxo – Salvaterra
Andrea Pousa – Tomiño
Jaime Álvarez – Caminha
Luis Caruncho – A Guarda
Castriño de Rebordechán – Crecente
Uxía – Salceda de Caselas
Cándido Miranda – Vilanova da Cerveira
Bookstores and points of sale
Galicia
A Coruña: Librería Couceiro
A Coruña: Moito Conto
A Guarda: Ideas Libraría
A Guarda: Libraría Atlántica
A Guarda: Libraría Cervantes
As Neves: Libraría Xes
Bueu: Libraría Abrente
Boiro: A Librería de Rosa
Crecente: Librería As Quintas
Ferrol: Libraría Cortizas
Foz: Libraría Bahía
Gondomar: Libraida
Lugo: Trama
Nigrán (Ramallosa): Carlín
O Porriño: Tía Tata
O Rosal: Ideas Libraría
Pontevedra: Libraría Paz
Salceda: Libraría Dona
Salceda: Libraría Lemos
Salvaterra: Libraría Terra
Santiago: Couceiro
Santiago: Libraría Pedreira
Tomiño: Novedades
Tui: Libros aquí S. L. (Espazo Lector Nobel)
Vigo: Librouro
Vigo: Libraría Cartabón
Vigo: Inquedanzas Sonoras
Portugal
Lisboa: Tigres de papel
Melgaço: Livraría Né
Chaves: Papelaría Ana María
Porto: UNICEPE
You can now place your order online at a price of €22 (VAT and shipping costs included)
Bookstores can order directly from here.